Food Service – Eat Better, Live Better
ABOUT THE EL MO CAFE
NOTICE:
(A note from My School Bucks):
---
We are writing to let you know that we are increasing the MySchoolBucks program convenience fee that parents pay from $1.95 per payment to $2.49 per payment. This fee increase is the result of an increase in card system organization fees and will be effective as of December 11, 2017.
This is the first time in our 16 year history of taking school meal prepayments that we have raised this 

program

 fee. During this time, our costs have increased steadily, particularly as the card systems have increased their fees to us. Unfortunately we are no longer able to absorb the entirety of these increases while still maintaining excellent service and support.
 
We understand there may be questions about the fee increase. We will notify all 

MySchoolBucks

 account holders of this change via email on 

Monday, November 27, 2017

.


Terry Roberts
President, Heartland School Solutions
---
*** Fire Notice***
If you have been displaced, are now homeless, or have lost your job due to the Sonoma County Fires; you are encouraged to submit a meal application to qualify your student for Free or Reduced-Priced meals for the remainder of the school year. If you need assistance or have any questions please reach out to your student counselor or Food Services Coordinator at 707-824-2338.
 
---
UPDATED ONLINE AND PAPER APPLICATIONS FOR 2017/18 SCHOOL YEAR WILL BE AVAILABLE BEGINNING AUGUST 1, 2017
El Mo Cafe located in the cafeteria is your one stop food shop:
● Three payment lines that move students in and out quickly
● Lions Lair Snack Bar open in the quad for lunch and brunch
● Easy access from the quad
● Attractive buffet style serving lines for brunch and lunch, including fresh prepackaged salads, veggies and fruit bar
● A variety of a la carte snacks and beverages sold separately

Full Meal Deals offer more food for the price – Full meals are a great deal and are available for both brunch and lunch.  Full meal deals offer students a variety of healthy foods to choose from, with an emphasis on offering more fruits, vegetables and whole grains at every meal. In fact, all of the grains offered in full meal deals are whole grain. The full meal deal always includes main entree, milk, fruit juice or whole fresh fruit.  The lunch meal includes a side salad, veggies with dip, or other veggies.
Meals are served to students through the federally funded United States Department of Agriculture (USDA) National School Lunch and School Breakfast Programs during the regular school year and summer school. These meals are planned based on USDA Dietary Guidelines for Americans (DGA).
El Molino High School's Food Service has participated in the local Farm to School movement, and uses locally grown produce on a regular basis. For more information see the newspaper article published in the Sonoma West Times on June 1, 2011 via pdf.
For More Information Contact: Ryanesha Warren, Food Services Coordinator at 707-824-2338 Email: rwarren.do@wscuhsd.k12.ca.us
---
Non-Discrimination Statement
In accordance with Federal civil rights law and U.S. Department of Agriculture (USDA) civil rights regulations and policies, the USDA, its Agencies, offices, and employees, and institutions participating in or administering USDA programs are prohibited from discriminating based on race, color, national origin, sex, disability, age, or reprisal or retaliation for prior civil rights activity in any program or activity conducted or funded by USDA.
Persons with disabilities who require alternative means of communication for program information (e.g. Braille, large print, audiotape, American Sign Language, etc.), should contact the Agency (State or local) where they applied for benefits. Individuals who are deaf, hard of hearing or have speech disabilities may contact USDA through the Federal Relay Service at (800) 877-8339.  Additionally, program information may be made available in languages other than English.
To file a program complaint of discrimination, complete the USDA Program Discrimination Complaint Form, (AD-3027) found online at:  http://www.ascr.usda.gov/complaint_filing_cust.html, and at any USDA office, or write a letter addressed to USDA and provide in the letter all of the information requested in the form. To request a copy of the complaint form, call (866) 632-9992. Submit your completed form or letter to USDA by: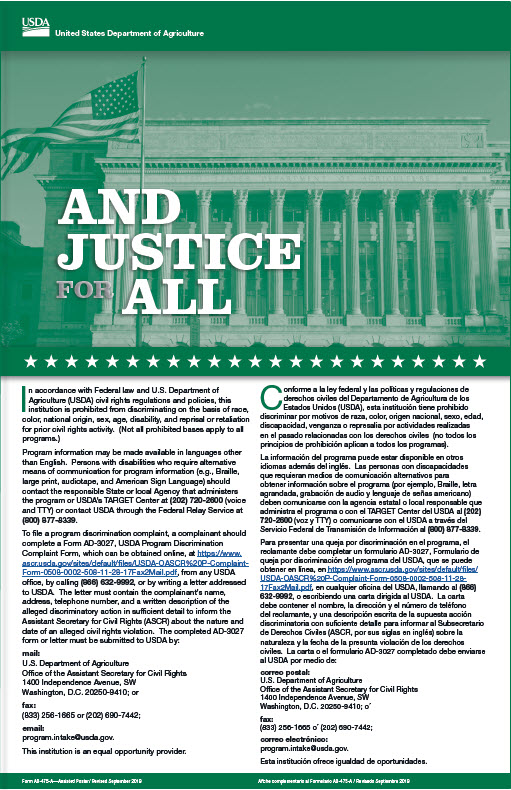 (1)   mail: U.S. Department of Agriculture
Office of the Assistant Secretary for Civil Rights
1400 Independence Avenue, SW
Washington, D.C. 20250-9410;
(2)   fax: (202) 690-7442; or (3)  email: program.intake@usda.gov.
This institution is an equal opportunity provider.
En Español
De conformidad con la Ley Federal de Derechos Civiles y los reglamentos y políticas de derechos civiles del Departamento de Agricultura de los EE. UU. (USDA, por sus siglas en inglés), se prohíbe que el USDA, sus agencias, oficinas, empleados e instituciones que participan o administran programas del USDA discriminen sobre la base de raza, color, nacionalidad, sexo, discapacidad, edad, o en represalia o venganza por actividades previas de derechos civiles en algún programa o actividad realizados o financiados por el USDA.
Las personas con discapacidades que necesiten medios alternativos para la comunicación de la información del programa (por ejemplo, sistema Braille, letras grandes, cintas de audio, lenguaje de señas americano, etc.), deben ponerse en contacto con la agencia (estatal o local) en la que solicitaron los beneficios. Las personas sordas, con dificultades de audición o discapacidades del habla pueden comunicarse con el USDA por medio del Federal Relay Service [Servicio Federal de Retransmisión] al (800) 877-8339. Además, la información del programa se puede proporcionar en otros idiomas.
Para presentar una denuncia de discriminación, complete el Formulario de Denuncia de Discriminación del Programa del USDA, (AD-3027) que está disponible en línea en: http://www.ocio.usda.gov/sites/default/files/docs/2012/Spanish_Form_508_Compliant_6_8_12_0.pdf. y en cualquier oficina del USDA, o bien escriba una carta dirigida al USDA e incluya en la carta toda la información solicitada en el formulario. Para solicitar una copia del formulario de denuncia, llame al (866) 632-9992. Haga llegar su formulario lleno o carta al USDA por:
(1)        correo: U.S. Department of Agriculture
Office of the Assistant Secretary for Civil Rights
1400 Independence Avenue, SW
Washington, D.C. 20250-9410;
(2)       fax: (202) 690-7442; o
(3)        correo electrónico: program.intake@usda.gov.
Esta institución es un proveedor que ofrece igualdad de oportunidades.
.